At the Blue Otter School of Herbal Medicine I was able to truly step into the worlds of plants. Time no longer mattered, communication with all life forms was honored. We were trained in how to be humble humans and listen to what the plants had to offer. As I walk forward in life I will always carry these amazing lessons and wonderful teachers with me.
Full-time Certificate Program | Part-time Classes | Download Forms
FULL-TIME CERTIFICATE PROGRAM
---
The Blue Otter School of Herbal Medicine full-time program runs for four months and is designed for  serious students who are ready to fully immerse themselves in the world of plants, spirit, medicine and self. Our students leave grounded in basic practitioner skills, plant knowledge, energetics and a love of and delight in the plants. This course is geared toward clinical practice.
We will be working in the garden, tending to stands in the wild, spending time in nature, making herbal medicines, spending time in classroom instruction and taking the plants internally. Additionally, we will be spending time in meditation, discussing the political context of health care, getting our hands dirty and laughing.
Curriculum includes; 400+ hours (you may download the full syllabus below):
Materia medica – physical and spirit medicinal properties of the plants
Energetics – energetic interactions of plants with each other and with people
Cultivating techniques – starting plants from seed or root, planting and harvesting techniques, growing plants, soil preparations
Medicine making – how to make herbal preparations
Body systems – basic foundation for understanding the body's physical functions
Case studies – working cases to learn assessment and herbal formulations
Animal care – using plants for the health of animals
Practitioner skills/ethics – what it means to be a practitioner and work with people
Schedule: April – July; exact dates for 2015 will be posted shortly. 
We will not be offering this course in 2014 and will resume offering it in 2015. We encourage you to apply early for 2015!
School is in session April through July. Classes are held Monday through Thursday 9:30am – 4:30pm, with a one-hour break for lunch. We will have some field trips that take us outside of these hours. There is a one week break from school midway through the four month session.  
Class size: Classes are limited to a maximum of 16 students in order to ensure individual attention.
Tuition : $4,800 in 2013 (with class overtime, comes to less than $12/hour). Tuition covers the cost of in-class medicine making supplies. Students are responsible for their own food and lodging.
Instructors: Karyn Sanders and Sarah Holmes
Application process: Applications to the school are accepted year round. We fill up quickly, so early applications are encouraged. Applications will be considered on a first come and space-available basis.
In addition to the written application there is a phone interview with the instructors. Applications may be downloaded application.fulltime or requested by phone, mail or email. Contact us for exact deadlines and schedule as the dates vary each year.
Please take a look at our Frequently Asked Questions (FAQ) page as well.
Visiting
Prospective students are welcome to sit in on a class or meet with the instructors with prior arrangement. Siskiyou County is beautiful and most people enjoy their visit to the area. We only offer this to students seriously considering the full-time program.
PART-TIME CLASSES
Beginning Herbalism | Advanced Herbalism | Gourmet Herbal Vegetarian Cooking | Herbal Backpacking
---
Beginning Energetic Herbalism
Explore the nature of plants; their energy and emotional, spiritual and physical uses. This course will also include; medicine making, plant meditations, and how to incorporate the plants into your life. Application may be downloaded below.
Schedule: Saturday and Sunday 10-4 (with one hour lunch break) one weekend per month for five months. We are not offering this class in 2016.
Tuition: tba
Instructors: Karyn Sanders and Sarah Holmes
Location: Blue Otter School of Herbal Medicine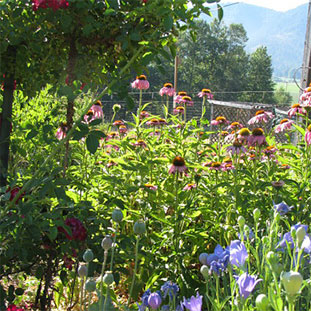 Herbal Backpacking Trips

Spend a weekend backpacking in the mountains and learning about herbs. In addition tobackpacking in a beautiful setting we will be identifying plants, learning about medicinal uses of plants, discussing a minimal impact on our environment and doing plant meditations.
A registration form must be submitted with your deposit and may be downloaded backpack.registration or requested below. Each trip is limited to 6 people.
Schedule:  Friday morning through Sunday afternoon. No trips are scheduled for 2016 at this time.

Tuition: tba per trip (includes group dinner on Friday and Saturday)
Instructor: Sarah Holmes
Location: Marble Mountain Wilderness, California
 Plant Meditation Weekend
Spend a weekend immersed in nature and the healing energy of plants. We will spend time sitting in meditation with plants, observing our own energy and feeling the energy of different plants moving through us. We will spend much time outdoors as well, as weather permits. No prior herbal or meditation experience is required.
Instructors: Karyn Sanders and Sarah Holmes
Schedule: fall 2016 dates TBA; Saturday and Sunday 10 – 4
Tuition: tba ; You may download the registration form here: registration.meditation
Energetic Herbalism Intensive
Come learn about Native American energetic herbalism during this week long intensive. Here is a chance to immerse yourself in another perspective toward herbal healing. This class is for herbal practitioners. The week will include plant meditations, indigenous perspectives on health and healing, relating to the plants and nature, working with people and working their cases from an energetic perspective. Class time will include:
plant meditations and sitting with the plants
practicing energy techniques
finding the root of an imbalance
how to be/work with clients energetically
putting a formula together
case studies; bring your cases to work energetically
Instructor: Karyn Sanders, primary instructor assisted by Sarah Holmes
Schedule: not offered in 2016.  9 – 4 daily (This class is for herbal practitioners only.)
We may go longer some days if we are in a flow and we will have a one hour lunch break.
Tuition: tba Price includes lunch and dinner each day. Meals will be vegetarian and students will assist with meal clean-up. A list of local lodging options will be provided upon registration.
Contact us for registration details. Registration deadline is October 3, 2014. Contact us after that date about space availability. You may download a registration form here: registration.intensive.2012
Advanced Energetic Herbalism
Our part-time advanced program is by teacher approval only, and is only open to students who have successfully completed our four month, full-time program. This course is offered to allow our graduates an opportunity to advance and deepen their skills; and serves as a mentor-ship as our students begin their practices as herbalists.
We will be focusing on working with energy, chronic and serious illness,  advanced formulation,  interview skills, plant cultivation/gardening, deepening work with self and practitioner skills.
Instructors: Karyn Sanders and Sarah Holmes
Schedule: this class meets for four days, four times per year
Gourmet Herbal Vegetarian Cooking
This class will focus on basic gourmet cooking techniques such as: cutting skills, reductions, flashing, how to create recipes, cooking and creating herbal foods. Come learn how to incorporate your medicine into amazing looking and tasting meals!
A registration form must be submitted with your deposit and may be downloaded here or requested below.
Schedule:  10-4 with one hour lunch break. Bring your own lunch. Students will get to taste all food made, but full meals are not provided. This course is not scheduled at this time.
Tuition: tba
Instructor: Karyn Sanders
Download Forms:
Syllabus | application.fulltime | beginning.registration | Backpack Registration | Gourmet Application | Gourmet Registration