After graduating from Chinese Medical School where I received a masters degree in herbology and acupuncture, I took a full-time herbal coure at Blue Otter School. I found their class to fill in a lot of the gaps that I felt were missing from my education. I loved their emphasis on honoring the physical and spiritual aspects of the plants. Amazing experience~
Karyn Sanders and Sarah Holmes created and founded the Blue Otter School of Herbal Medicine, opening its doors in the spring of 2003. Both practicing herbalists, they are committed to teaching and passing along this craft. Karyn and Sarah had been teaching for many years prior to the opening of Blue Otter and wanted to create an environment in a rural location where students could completely immerse themselves in the study of plants, nature and self. Together they have over well over 60 years of experience. During the pandemic, they transitioned their teaching to online. As they settle into their new home in the state of Washington, they are re-envisioning what this next chapter of Blue Otter will look like.
Karyn Sanders, Clinical Herbalist and Educator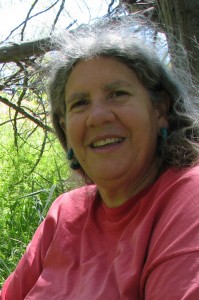 Karyn has been working with plants for most of her life. She was first trained in Native American traditional plant medicine by her grandmother. In her mid-teens she apprenticed with a Mexican curandera and has subsequently studied with various traditional teachers as well as Western herbalists. Karyn has been teaching and practicing herbal medicine from an energetic perspective for over 42 years.
Karyn has a live radio show, The Herbal Highway, that has aired weekly since 1997 on KPFA, 94.1FM out of Berkeley, California. She co-hosts  and produces this program with Sarah. You may listen to her show live through the internet at www.KPFA.org  Tuesdays from 1 to 2pm. Karyn is also available to teach at other schools, community groups and conferences.
Sarah Holmes, Clinical Herbalist and Educator
Sarah Holmes has been in private practice as a clinical herbalist since 1998. She trained in Native American and Western Herbalism starting out at the Pacific School of Herbal Medicine in Oakland, CA and continued with Karyn Sanders.  Sarah believes strongly in the interconnectedness of mind, body and spirit and enjoys working with clients and students to open them to this concept on both obvious and subtle levels.
Sarah has a strong commitment to service that started with volunteer work in her teens and continued into a career in social work. Her background in social work enriches her current vocation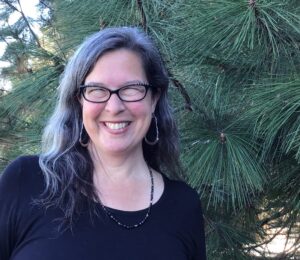 bringing together her love of nature and a commitment to service and working with people and the plants.
Sarah also has a love for teaching and has been teaching people for many years before beginning her career as an herbalist which has expanded her teaching beyond health to also include plants and the outdoors. For nine years she ran an outdoor education program for The Sierra Club Foundation on Mt. Shasta with local school children and is trained as a Wilderness First Responder through Wilderness Medicine Associates.  Sarah co-hosts and produces The Herbal Highway on KPFA public radio with Karyn Sanders.
When not working, Sarah can often be found hiking in the vast wilderness of this area, puttering in her garden or curled up with a good book. Sarah is also available to teach at other schools, community groups and conferences.
Stella & Annie
Our four-legged staff, when they are available, assist students in relaxing and being in the moment. Stella likes to hang out in the garden and provide the occasional appearance with her cat self.
Our beloved Annie, who has been with us from the start of our school, died in March of 2017. She will be missed and remembered by many. Annie, January 6, 2003 – March 6, 2017.