Karyn Sanders is available for Mentoring Sessions and teaching in your school or community. Her work is based in Native American, energetic herbalism.  See our classes page for more details about this. Karyn is also available on a limited basis for in-depth energetic, spiritual consultations.
Karyn may be reached at Karyn@BlueOtterSchool.com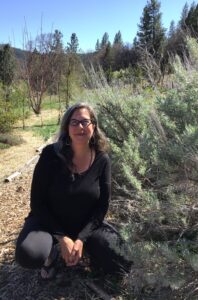 Sarah Holmes is available for teaching in your school or community, for Mentoring Sessions and for individual consultations; in person or by phone for people living outside of her area. As a clinical energetic herbalist Sarah works with individuals to support them in regaining and maintaining their  health and well being through herbs and essences. She has shifted her practice to only working with spirit formulas to support emotional and spiritual well being from an energetic perspective. The plants, in their wisdom, remind us how to be in balance and support us until we get there. Sarah also will provide herbal formulas for her clients that they get filled elsewhere.
Sarah may be reached at Sarah@BlueOtterSchool.com