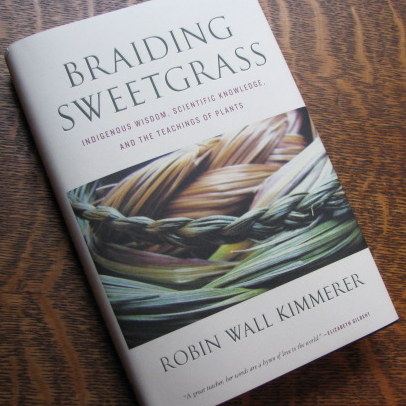 Reading this book felt like reading a prayer. This is a book to take your time with so you can savor the beautiful writing as well as take in the layers of what is being said. The subtitle of the book, Indigenous Wisdom, Scientific Knowledge, and the Teachings of Plants gives you a sense of the content but not the experience.
Dr. Robin Wall Kimmerer weaves, or I should say braids, together stories, both traditional and personal, science and her love of the earth. Braiding Sweetgrass is a call to action from the heart.
Dr. Kimmerer is a professor of environmental biology at SUNY, a member of the Citizen Potawatomi Nation, a beautiful writer and eloquent speaker. She is also founder and director of the Center for Native Peoples and the Environment, an organization dedicated to "creating programs that draw on the wisdom of both indigenous and scientific knowledge in support of our shared goals of environmental sustainability." She is also, proudly, a mother.
From these perspectives she offers examples of how we can learn from nature; the plants, the salmon, the waters. While it can be devastating to really look at how much our earth and its inhabitants are suffering, it is also imperative that we do look, listen and feel – and from there move to action. Action in whatever form that takes for each of us.
If you are looking for an inspiring read for yourself or someone else, I highly recommend this book. The reading of Braiding Sweetgrass will be well worth your time.